Powering Progress
Shell Tameer has completed its 16th year of empowering young entrepreneurs in Pakistan. We believe the transformational change we have envisioned, will focus towards new technologies, new business models, new ways of thinking and new collaborations. They are all vital to creating the inclusive growth that will ensure a sustainable future for the country, its people, and our business.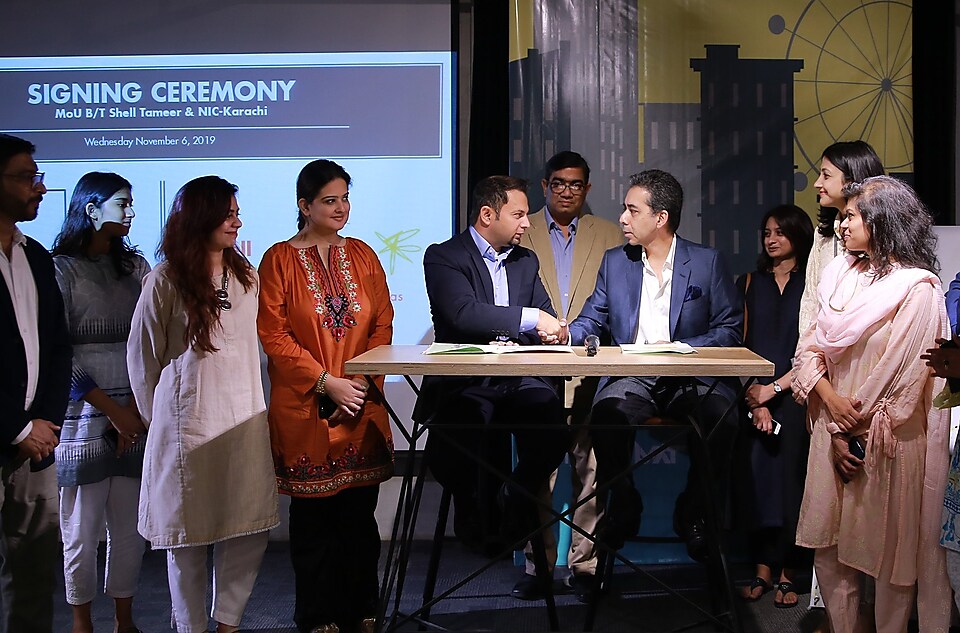 Strategic Collaborations
This year, we built strategic collaborations with key stakeholders to leverage resources from academia, industry and enterprise development agencies towards a sustainable entrepreneurial ecosystem together.
Through our partnerships with institutes like Institute of Business Administration (IBA), NED University of Engineering & Technology, National Incubation Centre Karachi and ClimateLaunchpad Pakistan, we have engaged over 200 aspiring entrepreneurs to help them convert their green business ideas and final year projects into a commercial venture.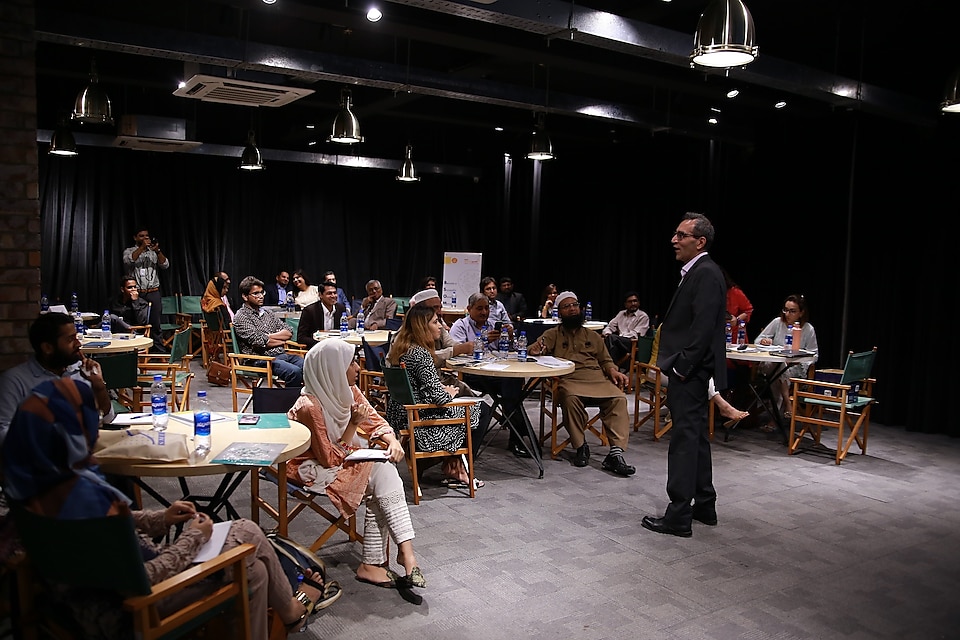 Become Successful Owner Manager Workshops
Shell Tameer trained over 200 aspiring entrepreneurs through the advanced "Become a Successful Owner Manager" modules offered to the students of NED and Bahria University and start-ups at Plan X in Karachi, Lahore and Islamabad.
Shell Tameer invited subject matter experts from Shell, industry and academia to facilitate sessions on Digital Marketing, Business Legalities, Financial Management and Idea pitching techniques to equip them in professionalising their startups.
Shell LiveWIRE Webinars
7 start ups also benefitted through Shell LiveWIRE global webinars on The Science & Art of Market Research and Customer Discovery.
Access to Finance
Access to finance is a key enabler in the success of young start-ups. This year, we connected financial institutes with our alumni, providing funding platforms to promising talent of the future.
Shell Tameer conducted a mentoring session with ReapAgro at SMEDA - Small & Medium Enterprise Development Authority to help them in developing their expansion plans. Based on recommendations, ReapAgro were further connected to USAID Small & Medium Enterprise Development Activity (SMEA) and went on to receive a grant which helped them develop an app to digitalize their financial transactions and advisory services for the farming community.
This year the theme for Shell LiveWIRE's Top Ten Innovators global competition was around the Circular Economy, which aims to find innovative solutions amongst our Shell LiveWIRE alumni.
Greenovation from Pakistan received the runner up prize in the Sustainable Future category. Their energy innovation converts plastic waste into LPG, providing a cleaner and cheaper source of energy for the communities in KPK.
The winners competed from 98 applications from 19 countries around the world. Twenty-one finalists then had to compete in a public vote, which drew in more than 18 thousand votes from 144 countries.
Read more about the two enterprises in "Enabling Lives" section of this newsletter.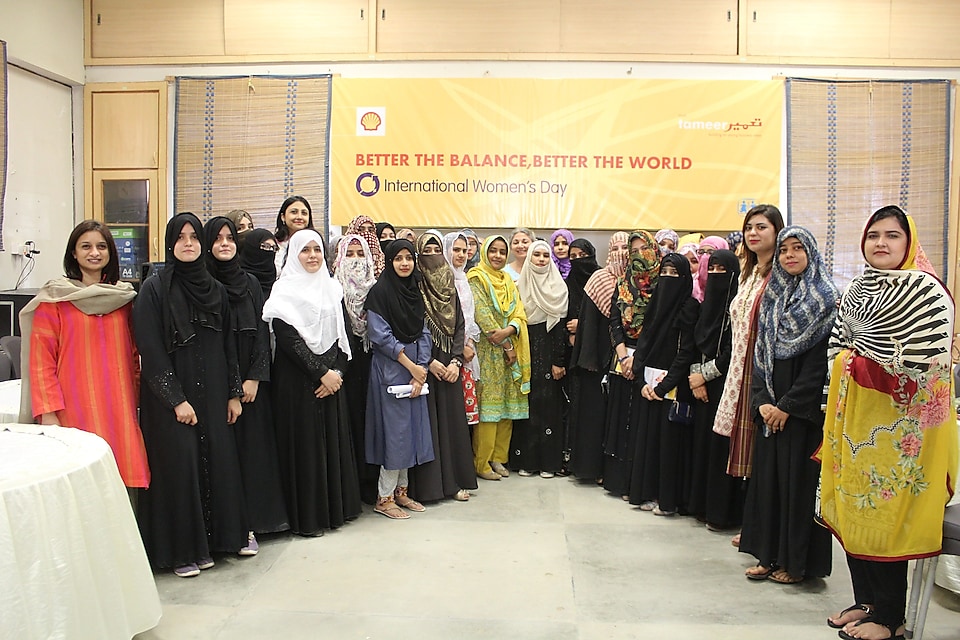 International Women Day Celebration
Shell Tameer celebrated International Women's Day by hosting mentoring circles for female led start-ups at the SOS Technical Training Institute (SOS-TTI) in Karachi Pakistan.
The program proved to be a networking opportunity for 14 Shell Tameer women alumni who have been trained through Tameer's "Build the Future Workshops", a multi module training programme on basic business management.
The exclusive female batch received trainings on market research, business planning, financial and human resource management, culminating in the production of a viable business plan.
The day long activity included discussions on the role of women in leadership, human resource management and sustainable business planning. Furthermore, the entrepreneurs also discussed the challenges they faced in operating a business in periods of economic uncertainty. The women also highlighted Shell Tameer's role in incorporating best practices and technical training has helped evolve their business practices and future business outlook.
Sumaira Bibi, founder of Shah Computers, a computer training institute, emphasized on her goal of training more women and increasing female participation in the workplace with competent talent.
The Tameer alumni were coached by trailblazing women from different sectors, including our own Alumni, Humaira Bachal, who runs two education centric NGO's in Sindh that have helped empower and motivate women towards self-sufficiency.
Since its inception, Shell Tameer has championed the Female Entrepreneurship movement through its awards, mentorship and leadership development workshops and will continue to support these graduating entrepreneurs with a range of post-startup services like mentoring, incubation services, market access opportunities, etc.
Started in 2015, Build the Future programme have trained over 300 skilled youth resulting in over 90 startups including 17 women led businesses and offered PKR 2.5 M as business support grants.
More in Shell Tameer
There are over 70 million households living in off grid areas whereas another 70 Million households face inconsistent energy supply in Pakistan. Read more to find out how Shell Tameer is enabling an ecosystem towards a sustainable energy future.
At Shell Tameer, we are proud to showcase the positive impact and successes of our alumni who have fostered and fuelled an entrepreneurial spirit across Pakistan.
Shell LiveWIRE is Shell's flagship enterprise development programme, envisioned to strengthen local economies by promoting entrepreneurship, innovation and meaningful employment.